WHAT WE OFFER
COACHING, COURSES, ONLINE TRAINING, AND MORE…
In an industry that exists because people believe in the concept of loving relationships and their ability to last for a lifetime, we have dedicated ourselves to the development of quality relationships at every level that will support the wedding experiences of the brides our industry serves.
COACHES
Wendy Rivera
Gabe Rivera
Meredith Bullock
Rachel Apple
Katie Houck
CATEGORIES
Stylist Training
Sales
Branding
Owner Training
Manager Training

Get involved and grow your business
Do You Speak Bride has multiple tiers of training, starting with our one-on-one individualized coaching, small group coaching, specific topic group programs, online training programs, events and live speaking!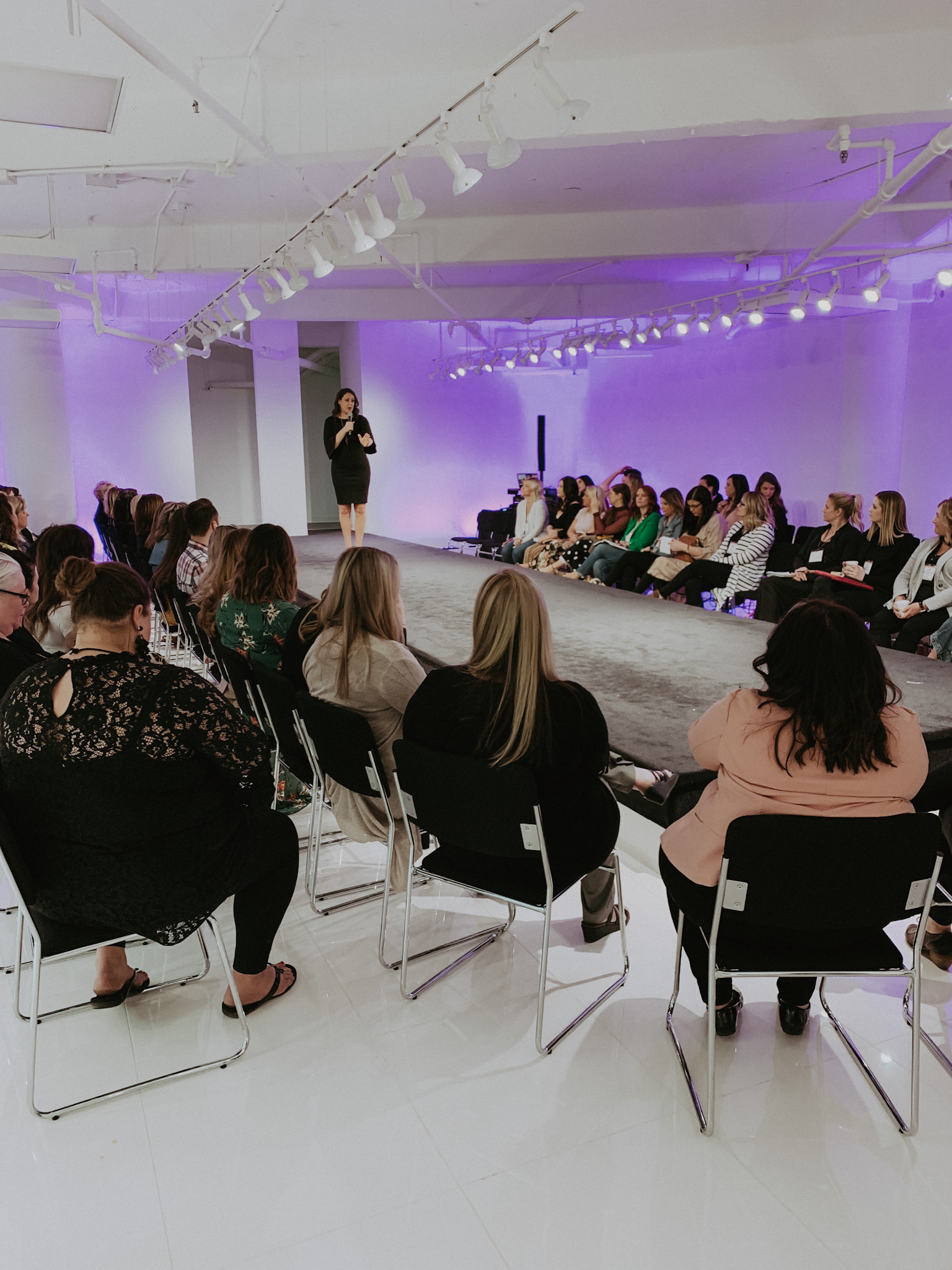 We specialize in working with the owners, managers, and stylists to create a comprehensive program to help cover all your areas of need.  A sales training plan for your stylists, resources and support for your managers, and individualized growth plans for owners!
I can't being to tell you what an effect that day (Virtual Stylist Summit) had on us all… You are a total inspiration Wendy, and I am so thankful that we took the plunge with OneStream! 
I feel super certain you've been told a million times today, but I wanted to just tell you that I gained so much from everything today… Today is just one of those light bulb moments when I realized this industry and my business is 100% right where I need to be.  
Thank you for pouring your time and your contagious energy… Today changed something in me and just having that moment of …ok.  This is my forever… that is a moment I'll remember for the rest of my life.
Thank you!!  We are well on our way to overcoming this!  Your words ring true!! After calling and leaving a message for the bride, we didn't hear back from her.  So, I took the girls # and texted her (felt so unprofessional… but so less confrontational for her and gave her an ability to talk to me outside of the shop).  Your Bride Country Language ROCKS!!  I met with her at noon and feel so much more confident after hearing this video!  Thank you!!!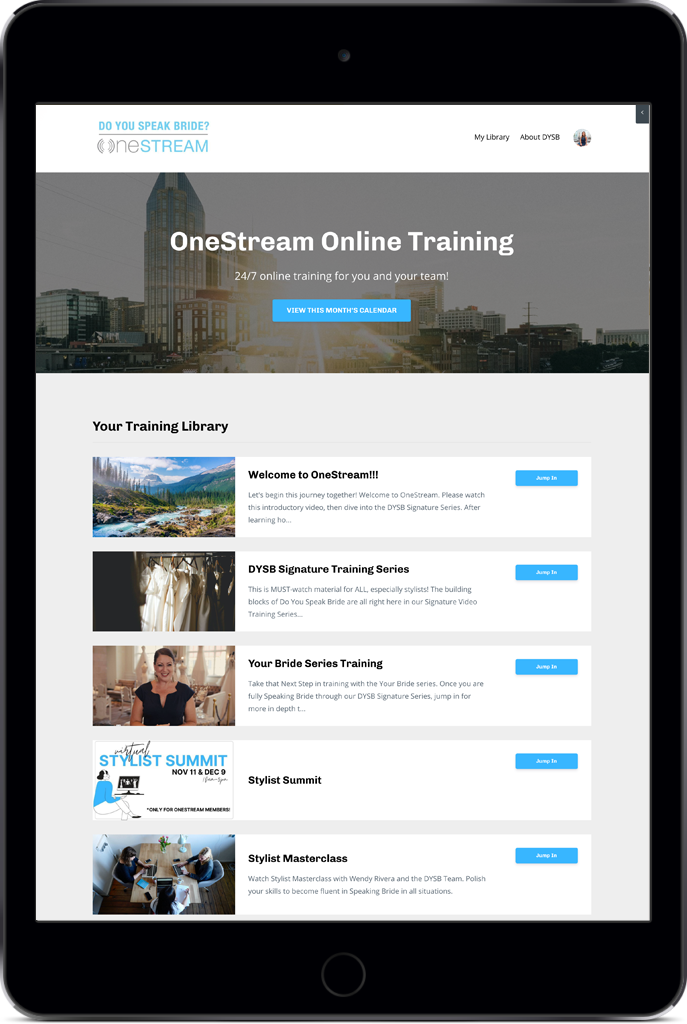 ONE-ON-ONE COACHING
Partner up with one of our amazing coaches to tackle problems within your business, create custom plans, and have personal accountability and help!
SMALL GROUP COACHING
Join a small group for general coaching or a specific 12 week course deep diving into one specific topic.
ONLINE TRAINING 24/7
Hop on OneStream 24/7 for Stylist, Manager, and Owner training in an easy to use environment.  Pre-recorded and live training videos give you insight and resources for yourself and your team.
VIRTUAL AND LIVE EVENTS
Tune-in online or join us live for full day intensive trainings.
FREE FACEBOOK GROUP
Be a part of the community on Facebook for questions answered, updates, and more!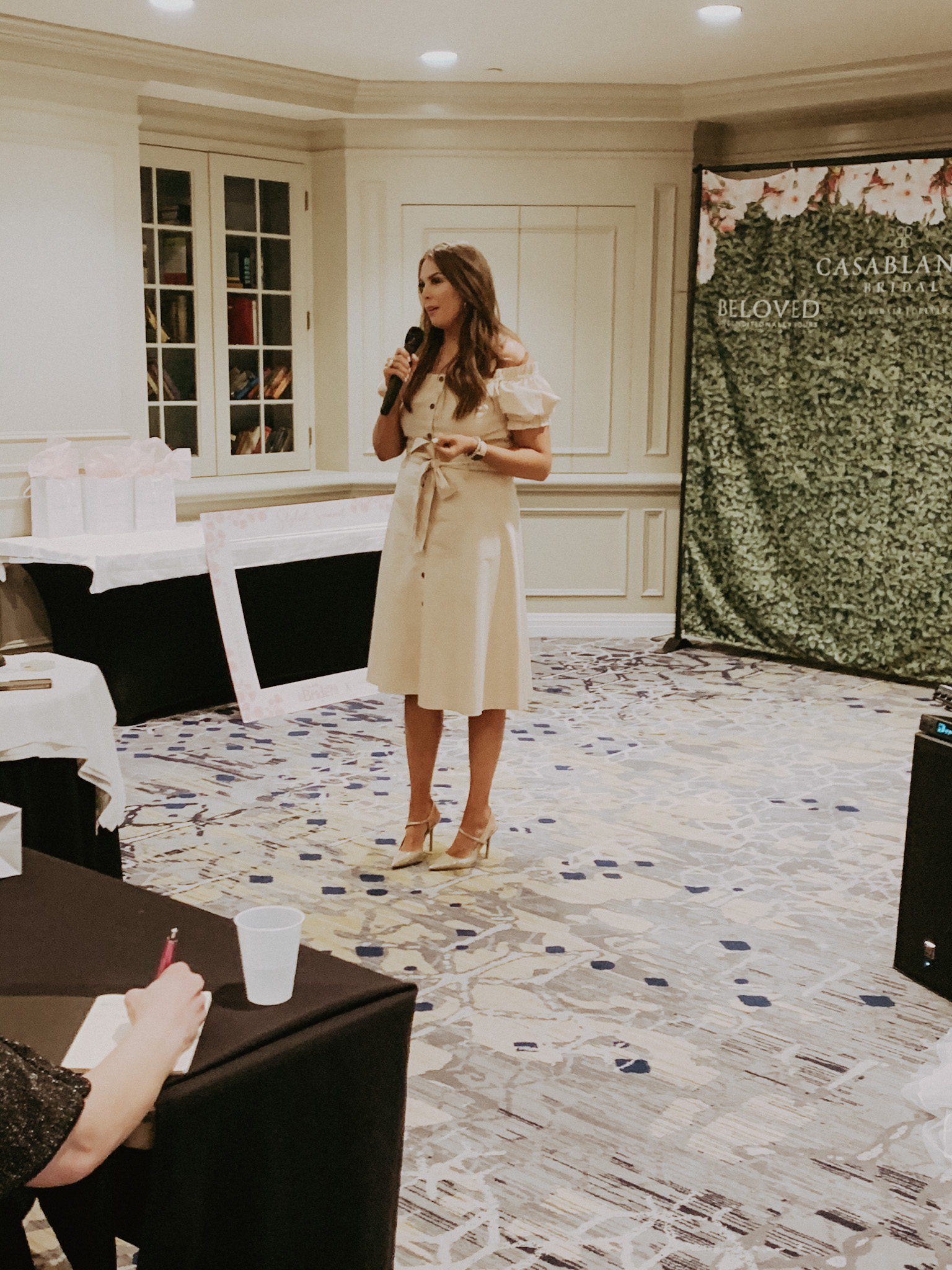 DYSB began with a simple yet profound observation – that because brides have a unique perspective driven by once-in-a-lifetime priorities, they have their own way of communicating, what we call the Language of Bride. If brides have their own language, then what is the best way to communicate effectively with them? Should wedding professionals attempt to teach brides how to speak the language of business, or should wedding pros learn how to speak Bride?
We have developed both online and live training for retailers, spoken at bridal markets and events all over the world, and consulted with clients all over the world, the first question we ask is still the same, "Do you speak Bride?"
Our clients have seen their numbers grow.  Closing ratios, traffic, margins, and more.  Work smarter, not harder, and watch your business grow and change.  Get more brides in your doors, create an experience that gets brides buying, and boost your margin so each sale adds more to your bottom line.  
Increase your closing ratios

grow your traffic

earn more in your margins
In 2020, we developed a 100% online platform available 24/7.  Complete with our Signature Sales Training Series, weekly videos, stylist specific training class, owner and manager training classes, and deep dive courses focusing on social media, digital marketing and more!
let's get started
Say Hello!
Connect with a coach and start growing your business TODAY!